• Feel relief from pain, stress, headaches, anxiety and more •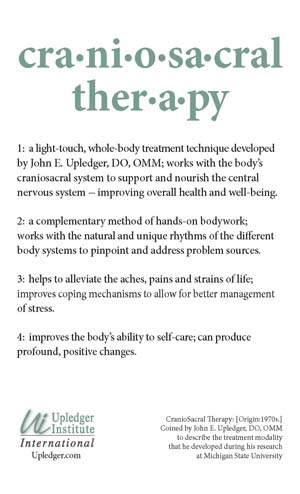 CranioSacral Therapy is a gentle, hands-on method of evaluating and enhancing the functioning of a physiological body system called the craniosacral system - comprised of the membranes and cerebrospinal fluid that surround and protect the brain and spinal cord.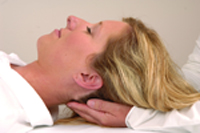 Using a soft touch generally no greater than 5 grams, or about the weight of a nickel, practitioners release restrictions in the craniosacral system to improve the functioning of the central nervous system. Clients remain clothed in loose comfortable clothing of their own during the session.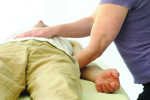 CST was pioneered and developed by osteopathic physician John E. Upledger (www.upledger.com) following extensive scientific studies from 1975 to 1983 at Michigan State University, where he served as a clinical researcher and Professor of Biomechanics.
By complementing the body's natural healing processes, CST is increasingly used as a preventive health measure for its ability to bolster resistance to disease, and is effective for a wide range of medical problems associated with pain and dysfunction, including:
Migraine Headaches

Chronic Neck and Back Pain
Motor-Coordination Impairments
Colic
Autism
Central Nervous System Disorders
Orthopedic Problems
Traumatic Brain and Spinal Cord Injuries
Scoliosis
Infantile Disorders
Learning Disabilities
Chronic Fatigue
Emotional Difficulties
Stress and Tension-Related Problems
Fibromyalgia and other Connective-Tissue Disorders
Temporomandibular Joint Syndrome (TMJ)
Neurovascular or Immune Disorders
Post-Traumatic Stress Disorder
Post-Surgical Dysfunction
Dominique Tardif, LMT, CST
From a satisfied client:
"My physical therapist recommended the work of CranioSacral Therapy to me and specifically therapist Dominique Tardif. The use of massage as part of my complement of health care providers has been in play for the last 15 years. However, as I started to get more acute and cascading symptoms from an injury that were curtailing my quality of life, I am grateful to have had Dominque as part of the team of health providers that have worked together.
She has a wide array of techniqes and both clinical and intuitive knowledge and skills.
I find that the CranioSacral work feels like I have had a lightness applied to my body instead of the more traditional deep manipulation of muscle. I know this work has allowed
my body to find its own way to better alignment and wholeness versus being forcibly pushed into place with more traditional massage methods. The result is that the residual effect is vastly superior for me and has promoted increased health and vitality." -SM
---